Welcome to Life Lines the monthly newsletter for members of the U.S. Life-Saving Service Heritage Association. For those of you reading and have yet to join, please consider doing so. Your membership will get you access to the station inventory link and our new venture to create a "Surfmans' Data Base." If you would like to join please go to http://uslife-savingservice.org/join-donate-support/
Publications Now Available as Print-on-Demand
[twocol_one]
[/twocol_one] [twocol_one_last]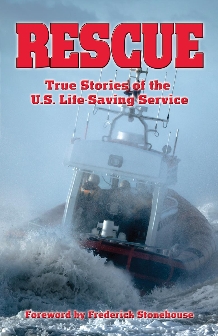 [/twocol_one_last]
The two books that the USLSSHA produced are now available by print-on-demand at lulu.com. Search for either "They Had to Go Out" or "Rescue: The Stories of the U.S. Life-Saving Service" edited by John Galluzzo. If you have not added these two books to your library here is your chance to do so.
Chronology of Coast Guard History

If you were looking for a link to a chronology of Coast Guard History here is that link. https://www.history.uscg.mil/research/chronology/
Coast Guard Tells Cruise Ships With COVID-19 Cases To Stay Away From U.S. Ports
The U.S. Coast Guard is telling foreign-flagged cruise ships to be prepared to care for people with COVID-19 for an "indefinite period of time" at sea or to seek help from countries other than the U.S., citing a health care system that is being overwhelmed. The instructions are in a new safety bulletin that took effect this week along the southern Atlantic coast, including Florida – which is reporting more than 6,700 coronavirus cases, as of Tuesday evening.
If a cruise ship must send someone ashore for medical care, its owner will be responsible for essentially every step of the trip, from arranging an evacuation to hiring a private ambulance and ensuring the person has a spot in a hospital. But the Coast Guard bulletin, signed by Rear Adm. E.C. Jones of the 7th District based in Miami, also says it could be difficult to find any facility in South Florida that can take new COVID-19 patients.
"Medical facilities in the Port of Miami, for example, are no longer accepting MEDEVAC patients due to limited hospital capacity and it is expected that neighboring counties will follow suit," wrote Jones, whose Coast Guard district includes Florida, Puerto Rico, Georgia and South Carolina.
The new medical requirements apply to any vessel carrying more than 50 people. It also singles out cruise ships that are registered in the Bahamas – referring to many of the ships owned by large cruise lines such as Carnival, Royal Caribbean and Norwegian.
If you would like to read more please go to the following link: https://www.npr.org/sections/coronavirus-live-updates/2020/04/01/825205607/coast-guard-tells-cruise-ships-with-covid-19-cases-to-stay-away-from-u-s-ports
17th Coast Guard Commandant Adm. James S. Gracey Dies at Age 92
Adm. James S. Gracey, 17th commandant of the U.S. Coast Guard from 1982 to 1986, has died at age 92, according to family friends.
Because of the coronavirus pandemic, a memorial service won't be held in the near future but is expected to take place at Memorial Service at Calvary Methodist Church in Arlington, Va., at date to be announced. There will also be an internment at Coast Guard Hill.
Condolences may be sent to Gracey's wife of more than 70 years, Mrs. Dorcas "Randy" Gracey, c/o The Kensington, 700 West Broad Street, Suite 413, Falls Church, VA 22046.
Gracey was born on Aug. 24, 1927, in Newton, Mass., and graduated from the U.S. Coast Guard Academy with a bachelor's degree in engineering and a commission of Ensign on June 3, 1949.
If you would like to read more about his distinguished career go to the following link: https://www.hstoday.us/federal-pages/dhs/uscg/17th-coast-guard-commandant-adm-james-s-gracey-dies-at-age-92/
Canadian Marine Company Turns from Survival Suits to Isolation Gowns for Health Professionals
Burnaby, BC – Mustang Survival®, the Canadian brand known for innovative solutions for the most demanding marine environments, has been saving the lives of water professionals for over 50 years. And now, they're turning their attention to saving lives on land.
As a design, engineering and manufacturer of life vests, survival suits and drysuits for both Military, public safety professionals and marine recreational users, in light of the global pandemic Mustang Survival® is shifting their focus inland – to PPE gowns for front line healthcare workers.
At 11:00 am today, April 1, the Mustang Survival® factory in Burnaby, BC officially went into production of the first 500 Isolation Gowns; a level 3 certified (PPE), a fully waterproof gown designed and engineered to bring new levels of safety to frontline healthcare workers.
If you would like to read more go to the following link: https://www.bcapparelandgear.com/news/saving-lives-on-land
Grounded Vessel Remains Stranded on Bodie Island
A vessel that was grounded near Oregon Inlet roughly six weeks ago remains stuck on Bodie Island, per a recent update from the Cape Hatteras National Seashore.
The 72' scallop boat, known as the Ocean Pursuit, encountered shallow waters close to the inlet around March 1. The U.S. Coast Guard Station Oregon Inlet responded to the initial early March incident, and the crew of the vessel was airlifted hours later as a safety precaution by a Coast Guard team from Air Station Elizabeth City.
If you would like to read more about this story please go to the following link: https://islandfreepress.org/outer-banks-driving-on-the-beach/grounded-vessel-remains-stranded-on-bodie-island/
Kittery, Maine is the Next Destination for the 2020 Annual Conference
The Board of Directors are monitoring the COVID-19 situation and will alert Life Lines readers by the end of May as to how this might impact the upcoming conference.
The 2020 Annual Conference and Meeting will be in and around Kittery, Maine and will include stations between Nahant, Massachusetts along the coast of New Hampshire and to the southern edge of Maine. The dates are September 24-26, 2020. Mark your calendars and save some time to make the trip.
If you would like to make your hotel reservation the conference attendees will stay at the Hampton Inn and Suites Kittery. The cost will be $179/night. Call and make your reservation at 800-445-8667 mention the U.S. Life-Saving Service Heritage Association. You can also book your reservation online at Hampton Inn and Suites website and use Group Code: USL. The deadline to make hotel reservations to get the special rate is August 7, 2020.
Also mark your calendars for the 2021 Conference which will be held in Southport, North Carolina on September 23-25, 2021. It's never too early to make plans for all upcoming U.S. Life-Saving Service Heritage Association conferences. We hope to see you in either Maine or North Carolina and will be thrilled when you attend both.
Watch this site and Wreck and Rescue for more information.
If you have a story to submit for the next Life Lines please contact us through our website. http://uslife-savingservice.org/contact/
Also consider joining the Life Lines staff. If you would like to be the editor or would like to assemble a few of the issues a year, the help would be welcome. We are now three and more are welcome to join us. If you wanted to have a role or contribute to the organization this is your opportunity to do so.