Welcome to Life Lines the monthly newsletter for our members, and also to anyone reading this that has not yet become a member of the U.S. Life-Saving Service Heritage Association. For those of you reading and have yet to join, please consider doing so. Your membership will get you access to the station inventory link and our new venture to create a "Surfmans' Data Base." If you would like to join please go to https://uslife-savingservice.org/join-donate-support/
Publications Now Available as Print-on-Demand
[twocol_one]
[/twocol_one] [twocol_one_last]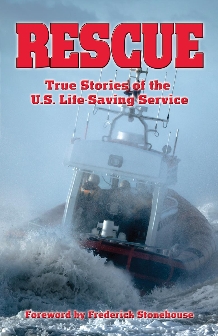 [/twocol_one_last]
The two books that the USLSSHA produced are now available by print-on-demand at lulu.com. Search for either "They Had to Go Out" or "Rescue: The Stories of the U.S. Life-Saving Service" edited by John Galluzzo. If you have not added these two books to your library here is your chance to do so.
Summer Programs have Come to an End after Labor Day
Labor Day has come and gone and most National Parks on the coasts including the Great Lakes are saying good-bye to their summer seasonal force, including those who assist with programs remembering the U.S. Life-Saving Service. If you would like to read more about the summer program at Sleeping Bear Dunes and all of the children who have gotten to walk in the shoes of past lifesavers go to the following link to read more. http://www.record-eagle.com/news/local_news/rescuing-history/article_e9ca7ae6-33cd-53ce-adee-6c1b2bcde68b.html
Babylon Town begins long-delayed renovation of Historic Oak Beach Community Center
A building once used to help save lives in Oak Beach, Long Island is being resuscitated from the damage of two powerful storms.
After years of delays, Babylon Town has begun renovating the Oak Beach community center, which was damaged first by tropical storm Irene in 2011 and then superstorm Sandy in 2012.
The historic building was once part of the U.S. Life-Saving Service, the precursor to the U.S. Coast Guard. The station is believed to be the last remaining one of its kind out of 23 that were built along the South Shore — which at the time included the East End and the Rockaways — in 1872 by the U.S. government. The building remained in almost continuous use by the Coast Guard until 1945. It was sold three years later to Babylon Town and, starting in 1975, barrier beach residents began using it for a variety of purposes, such as civic meetings and chapel services. If you would like to read more about this restoration project please go to https://www.newsday.com/long-island/suffolk/superstorm-sandy-oak-beach-community-center-1.19806739 to see more.
J Candace Clifford
Reprint from the U.S. Lighthouse Society News.
August 15, 2018
We are sad to announce that our dear friend J. Candace Clifford died this morning at her home in Alexandria, Virginia, after a battle with brain cancer. Our heartfelt condolences go out to her mother, Mary Louise Clifford, and all her family and friends.
Ask anyone deeply involved in lighthouse preservation to name the nation's top lighthouse researcher and you'll hear one name – Candace Clifford. With unparalleled knowledge of the National Archives lighthouse section, she was a critically important consultant to the National Park Service Maritime Heritage Program from 1988 to 2001, and was primarily responsible for its databases, resource surveys, and inventories, ultimately producing the first Historic Lighthouse Preservation Handbook.
A publisher and author of lighthouse history books, often with her mother Mary Louise Clifford, Candace documented the role of women in the lighthouse service, among other topics. Honored as well for other types of maritime history services, she was an officer of the American Lighthouse Council and a recipient of the lifetime Ross Holland Award for distinguished service in lighthouse preservation.
Most recently Candace worked closely with the U.S. Lighthouse Society as its historian assisting with the creation of, among other things, the largest lighthouse related research archive in the nation, to be named in her honor.
Executive Director Jeff Gales of the U.S. Lighthouse Society said, "We have lost a dear friend and colleague . . . she will truly be missed."
In addition to this tribute from the U.S. Lighthouse Society News, Candace was one of two people (Kevin Foster) who brought the first of the U.S. Life-Saving Service experts to Cape Cod N.S. in 1996 to begin the discussion about creating an inventory of the remaining U.S. Life-Saving Service Stations. It was at the close of this meeting that the U.S. Life-Saving Service Heritage Association (USLSSHA) was created. The Board of Directors selected, by-laws were developed, and a path to incorporate in Massachusetts and to submit our tax exempt paperwork was decided. The first conference location was also announced to be held at Sleeping Bear Dunes National Lakeshore, which occurred in September 1997.
Candace is probably best known for her book "Women Who Kept the Light". She last attended one of the USLSSHA meetings when held in the Hamptons.
Candace did research for the USLSSHA, and was very knowledgeable about researching in the National Archives and the staff who worked in the section that houses the USLSS history. Candace will be missed both as a good friend to many of our members as well as to this organization.
Nags Head, North Carolina Annual Conference Additional Information
Time is drawing nigh. If you have not sent in your reservation it is suggested you do so very soon.
The Annual Conference reservation system is now online at the website. Please check out the itinerary (https://uslife-savingservice.org/annual-conference/2018-annual-meeting-itinerary/), there are a number of stations that we will see as a group during the conference. The last count was 9 during the conference dates October 11-13, 2018.
The current USCG station at Oregon Inlet will also be providing our group with a tour of their station as well. The planning committee has contacted federal, state, local non-profits, businesses, and private owners who have all graciously invited our group to stop by for a tour, or just stop and take photos and come by later to shop or have dinner in their businesses.
The Annual Conference of the United States U.S. Life-Saving Service Heritage Association will be held in Nags Head, North Carolina from Thursday, October 11 through Saturday, October 13, 2018. The cost for the full conference is $190 including the annual dinner, and daily rates are $75 for each day plus add $50 if you want to attend the annual dinner. The annual dinner will be held at the Black Pelican Restaurant which is the former 1874 Kitty Hawk Life-Saving Station.
UNITED STATES LIFE-SAVING SERVICE HERITAGE ASSOCIATION
October 2018 Annual Conference Itinerary
Nags Head, North Carolina
Wednesday, October 10
OPTIONAL Pre Conference Trip: Noon to 2 p.m.: Open House at Wash Woods Station—USCG 1917. Meet at Pre-determined place. Sign up has passed for this optional visit but we will see what we can do. Additional people have asked to be included.
4 to 6 pm. Board of Directors' Meeting, Comfort Inn, Nags Head
Thursday, October 11th, 2018
8:30 am: Registration and Presentations at the Comfort Inn, Neptune Room, Nags Head
James Charlet – "Outer Banks Maritime History and the USLSS"
Donna Weathers – "A Day in the Life of a Surfman on the Outer Banks"
Danny Couch – "Overview of the Outer Banks USLSS Families and Shipwrecks"
Noon: Box lunch provided
1:00 pm: Board Bus for afternoon tours
Tour of Wright Brothers National Memorial with presentation
Private tour of Kitty Hawk LSS #7 by owner JoAnn Mantz
Stop at Sanderling Resort to see Caffey's Inlet LSS #5
Private tour of Kill Devil Hills LSS #13 by Doug Twiddy of Twiddy and Company
6:00 pm: Return to Hotel. Dinner on your own
Friday, October 12th, 2018
8:15 am: Board Bus at Comfort Inn for the days tours
NPS Tour of Bodie Inlet Station
USCG Tour of modern Oregon Inlet Station
Private Tour of Historic Oregon Inlet Station
Private Tour of Chicamacomico Life-Saving Station with Breeches Buoy Demonstration
Noon: Box lunch provided
Site tour Pea Island Station built in 1931
NPS tour Tour Little Kinnakeet Life-Saving Station
Cape Hatteras Lighthouse Tour
6:00 pm: Return to Hotel. Dinner on your own
Saturday, October 13th, 2018
9:00 am: USLSSHA Annual Business Meeting at Comfort Inn, Neptune Room
10:00 am: Carpool to Manteo for the day's tours and presentations
Outer Banks History Center Tour
Noon: Box lunch provided
1:00 pm: "Freedmen, Surfmen, Heroes" Live presentation, North Carolina Aquarium
James Melvin's Paintings, Station Pea Island, led by artist, autograph opportunity
Capt. Richard Etheridge Family Gravesite tour
Pea Island Station Descendants Storytelling
Pea Island Cookhouse Museum, Collins Park
5:00 pm: Return to Hotel
6:30 – 9:00pm: Social time, dinner and auction at Black Pelican restaurant in the Kitty Hawk Station 1874
Fifteen rooms are being held for the conference at the Comfort Inn South Oceanfront Hotel, Nags Head, NC. Five rooms are being held for each of the following 3 prices: 2 double beds, ocean side $159.00/night; 2 double beds, sound side $109.00/night; king bed, ocean side $159.00/night. Add tax for all rooms. Reservations must be made by September 10, 2018. Call the front desk, 252-441-6315, and say you are attending the meeting of the US Life-Saving Service Heritage Association. BOOK NOW! More than half of the rooms have already been reserved!!
Register online: www.uslife-savingservice.org
If you have a story to submit for the next Life Lines please contact us through our website. https://uslife-savingservice.org/contact/
Also consider joining the Life Lines staff. We are now three and more are welcome to join us. If you wanted to have a role or contribute to the organization this is your opportunity to do so.