Interested in seeing more photos of the cold water training in Lake Superior the end of August 2020. https://upnorthlive.com/news/local/gallery/photos-uscg-air-station-traverse-city-participates-in-lake-superior-rescue-training#photo-1
Publications Now Available as Print-on-Demand
[twocol_one]
[/twocol_one] [twocol_one_last]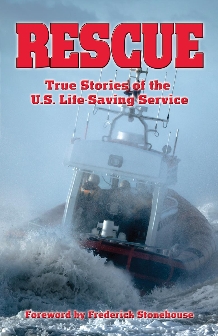 [/twocol_one_last]
The two books that the USLSSHA produced are now available by print-on-demand at lulu.com. Search for either "They Had to Go Out" or "Rescue: The Stories of the U.S. Life-Saving Service" edited by John Galluzzo. If you have not added these two books to your library here is your chance to do so.
Chronology of Coast Guard History

If you were looking for a link to a chronology of Coast Guard History here is that link. https://www.history.uscg.mil/research/chronology/
Wallops Beach Station Again Looking for a New Home
This call will stay in Life Lines each month until we determine that the structures have been saved or time has run out and they have been demolished. If you can help please do so now.
The Wallops Beach Station in Virginia needs someone willing to take and move the structures from the NASA Wallops Flight Facility. Both the station and the tower could be yours. NASA will demolish the structure in 2021 to reduce their mandated allotted square footage, but there is still time. If someone is interested in moving these structures please contact:
Steve Taylor
Realty Specialist
NASA Wallops Flight Facility
Bldg N-161, Rm 135
Work: 757-824-1194
Cell: 503-317-0073
USLSSHA Looking for Lesson Plans and Educational Guides
Does your museum or facility have educational material relevant to the US Lifesaving Service history? We are updating our Educational Resources website page and would be happy to review your submissions for reference on our website. Please include proprietary and copyright information as necessary. Links to online resources are preferred, but if you have large files just send a short description and contact information and our Education Committee will reach out to you. Please send responses to http://uslife-savingservice.org/contact/
Nantucket Youth Hostel on the Market
The Star of the Sea Youth Hostel was like something out of the past, far removed from any hotel or inn on the island. Young people often arrived by bicycle, rented a bed in a communal dorm for $39-45 a night, and met other visitors from around the world.
Not anymore. The Surfside hostel, which opened in 1963 in the only remaining lifesaving station on the island, announced this week it is closing permanently, after shutting its doors this summer out of concerns about the spread of COVID-19.
Hosteling International, the company that owns the hostel, has put the property, a stone's throw from the beach, up for sale for $4.5 million.
"We've been looking to sell, which is COVID-19 related," Hostelling International vice president of hostel development Aaron Chafee said. "On Nantucket it is in response to the long-term impacts of COVID on travel. People loved it on Nantucket with the big dorms, but that's tough with social distancing."
Editor's Note: I had the privilege to stay in the hostel the year the USLSSHA conference was held on Nantucket. My bunk was next to the ladder that climbed into the lookout tower. I feel very lucky that I got the opportunity to stay in this facility and hope a buyer will value its history and charm.
Help Wanted:
Social Media Coordinator
The U.S Life-Saving Service Heritage Association is seeking a volunteer Social Media Coordinator to oversee the association's Facebook and Instagram platforms. As a member of the Marketing / Outreach Committee, this position will be instrumental in our efforts to increase the general public's awareness of our organization's mission. If you enjoy social media and love USLSS history, we would like to hear from you.
Responsibilities:
Create engaging content on USLSS history and early USCG history. This could be:
Station spotlights
Surfman spotlights
Excerpts from logbooks and annual reports
Historic and/or modern photographs
Sharing relevant information from other historical societies & museums
Assist the Board of Directors in promoting important association news, announcements, and events
Develop a structure & schedule for posting content, along with goals & targeted audiences
Organize and assign roles to current social media admins
If you are interested in this position or would like to explore it further, please send an email to: [email protected] and we will make arrangements for a follow up phone call.
Kittery, Maine is Going Virtual for the 2020 Annual Conference
IMPORTANT ANNOUNCEMENT
The virtual U.S. Life-Saving Service Heritage Association annual meeting will be Saturday, September 26th from 1 to 3 pm EST.
The cost will be free to anyone, member or not, that would like to attend. Please click this link to register: Register for the 2020 Annual Conference
This virtual conference is being hosted with the assistance of the Michigan Historic Preservation Network and we welcome their members who are also invited to join the annual meeting at no charge via their Zoom Platform.
The conference will include presentations by:
Fred Stonehouse, Great Lakes Author, who will present USLSS 101 to orient attendees to the history of the U.S. Life-Saving Service in the United States.
Sam Reid, Consultant, Wood Island Station, will present on the restoration of the station in Kittery, Maine.
Bruce Lynn, Executive Director of the Great Lakes Shipwreck Museum, will present on the group Save Our Station and their efforts to preserve the Vermillion Life Saving Station, Lake Superior, Michigan.
The presentations will be followed by a members meeting led by USLSSHA president Steve Marthouse. For this virtual meeting you will not be required to be a member to attend the members meeting. This gives non-members an opportunity to check out our projects and then decide if you would like to join us in the future.
If you are not a member or have not been to an annual meeting this gives you an opportunity to attend a virtual conference at no cost to you.
2021 Conference and Beyond
Mark your calendars for the 2021 Conference which is tentatively scheduled for Southport, North Carolina on September 23-25, 2021. We are in touch with the North Carolina conference planners and are monitoring the COVID-19 status in their State and will alert you when more information is known.
The on-site meeting in Kittery, Maine will be rescheduled in the future.
Watch this site and Wreck and Rescue for more information.
If you have a story to submit for the next Life Lines please contact us through our website. http://uslife-savingservice.org/contact/