Board Of Directors
You may contact any member of our Board or any Board Committee Chairs, to provide comment, report concerns, or to ask a question. Correspondence may be addressed to any individual director, the committee chairs, or any committee group through the chairperson by selecting their name from the list below.
President
---
John Loeper
Ocean City Life-Saving Station #30, New Jersey
Vice-President
---
Sam Reid
President, Wood Island LSS Association
Membership
---
Patricia Ryder
NPS Docent at Old Harbor LSS
Treasurer
---
LCDR Richard G. Ryder, USN (Ret.)
Historian and Author Seashore Sentinel
Clerk / Secretary
---
Michael S. Carlson, M.D.
Tillamook Bay LSS Preservation Project
Directors
Ken Arbogast -Wreck & Rescue, Editor-in-Chief
CDR Timothy R. Dring, USNR (Ret.) – Lifeboat Historian and Author
Jim Hall – Site Administrator, Erie Maritime Museum, Pennsylvania Historical and Museum Commission
Kimberly Mann – Historical Architect, Sleeping Bear Dunes National Lakeshore
Stephen Marthouse – USCG Auxiliary Fifth District (NR) Historian
Laura J. Quackenbush – Consultant, Great Lakes History and Interpretation
Cultural Resource Management
Laura Scharle – Site Manager, Indian River Life-Saving Station Museum
Jeff Shook – Owner, USCG Station St. Clair Flats, President, Michigan Lighthouse Conservancy
Frederick Stonehouse, M.A. – President, Marquette Maritime Museum
Advisory Board
Richard M. Boonisar – Past President, USLSSHA, Owner, Gurnet Life-Saving Station
Robert Browning, Ph.D. (Ret.) – Historian, U.S. Coast Guard
William Clark – Owner, USCG Station West Quoddy Head
Debbie Allyn Jett – Director Emeritus, Historian, Researcher and Writer
CAPT Dana A. Goward, USCG (Ret.) – Former Chief, Office of Boat Forces
Dennis L. Noble, Ph.D. – Maritime Historian and Author
Ralph Shanks, M.A. – Maritime Historian, Anthropologist and Author
CAPT W. Russell Webster, USCG (Ret.) – Maritime Historian and Author
Wick York – Historic Preservation Consultant
Committees and Chairpersons:
---
Finance: Dick Ryder
Publications: Kim Mann
Marketing/Outreach: Laura Scharle
Membership Services: Pat Ryder
Historical Stations: Mike Carlson
Surfman Registry: Tim Dring
Information Technology: Jeff Shook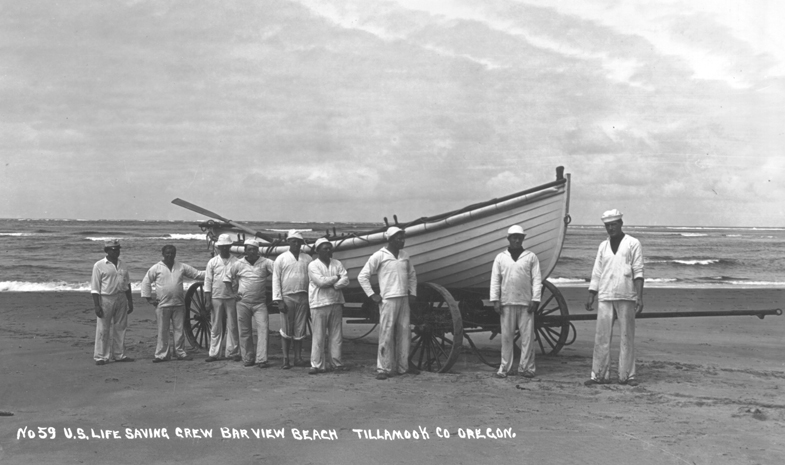 Photo Left and Above: Barview, Oregon c.1910. The Tillamook Bay Life-Saving Station crew pose before launching their surfboat in good weather.