Welcome to Life Lines the monthly newsletter for our members, and also to anyone reading this that has not yet become a member of the U.S. Life-Saving Service Heritage Association. For those of you reading and have yet to join, please consider doing so. Your membership will get you access to the station inventory link and our new venture to create a "Surfmans' Data Base." If you would like to join please go to https://uslife-savingservice.org/join-donate-support/
Publications Now Available as Print-on-Demand
[twocol_one]
[/twocol_one] [twocol_one_last]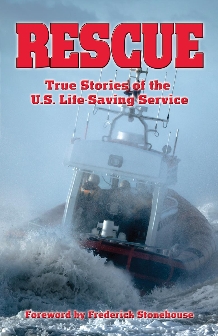 [/twocol_one_last]
The two books that the USLSSHA produced are now available by print-on-demand at lulu.com. Search for either "They Had to Go Out" or "Rescue: The Stories of the U.S. Life-Saving Service" edited by John Galluzzo. If you have not added these two books to your library here is your chance to do so.
Andrew Fitzgerald, last survivor of the Pendleton USCG Rescue Crew Dies at Age 87
Andrew Fitzgerald, the last surviving member of a Coast Guard crew that took a lifeboat out into the Atlantic in a raging blizzard in 1952 and rescued 32 of 33 merchant seamen clinging to the remains of a tanker that had split in two off Cape Cod, died on Thursday, November 15 in Aurora, Colo. He was 87.
Mr. Fitzgerald left the Coast Guard months after the rescue and spent most of his life as an equipment salesman in Colorado.
It is often called the greatest small-boat rescue in the history of the Coast Guard, a feat of seamanship and courage in a 36-foot engine-driven lifeboat that made international headlines and has been celebrated in books, magazines, documentaries and a Disney film, "The Finest Hours," released in 2016.
[button link="www.nytimes.com/2018/11/19/obituaries/andrew-fitzgerald-dead.html?rref=collection%2Fsectioncollection%2Fobituaries&action=click&contentCollection=obituaries&region=rank&module=package&version=highlights&contentPlacement=2&pgtype=sectionfront" window="yes"]Read More About Andrew's Life[/button]
Heritage Museum Presents Shipwreck Exhibition
Winter weather brings winter storms and the winter storms of the past brought many ships to ground along the coast of the Long Beach Peninsula. The Columbia Pacific Heritage Museum — 115 SE Lake Street in Ilwaco — presents a special exhibition Graveyard of the Pacific: Dangerous Currents-Shifting Sands. The show coincides with the shipwreck season. The exhibit opening is Nov. 16. It will be on view through March 9, 2019.
Museum hours are Tuesday through Saturday from 10 a.m. to 4 p.m. Admission is free on Thursdays thanks to the Port of Ilwaco.
Historic artifacts, photographs, and first-person accounts from wrecks such as the Admiral Benson, the Alice, the Potrimpos, the Glenmorag, and over 20 more ships will be featured in the exhibition. In addition, The U.S. Life Saving Service, U.S. Coast Guard and volunteer rescue units who have risked and sometimes given their lives to saving victims of maritime accidents will be highlighted.
A portion of the show will be devoted to noted shipwreck historian James A. Gibbs, whose groundbreaking book "Pacific Graveyard" is still considered a primary source for shipwreck information. Ocean Park photographer Charles Fitzpatrick who worked from the late 1920s through the 1960s will be highlighted for his part in keeping the mystery and attraction to shipwrecks alive. Come immerse yourself in our local shipwreck history.
For more information call 360-642-3446 or visit
columbiapacificheritagemuseum.org
Vermillion LSS, Michigan
The USLSSHA board awarded SOS Vermillion a $3,100 grant for start-up costs and building materials. In the last two years, members of S.O.S. Vermilion installed vents, patched the roof, and removed the dilapidated later additions which were compromising the structural integrity of the original station building. SOS Vermillion plans to restore the station building to its 1876 appearance. Restoration will progress as funds are received.
Former USLSSHA president, well-known author, and popular maritime history speaker Fred Stonehouse, in a post on facebook.com/SOSVermilion, said, "Vermilion LSS remains the most culturally important site next to Whitefish Point in the Eastern half of Superior."
The group would welcome all USLSSHA to join their preservation efforts and become a member of S.O.S. Vermilion. If you would like more information, please visit their Facebook page; website, sosvermilion.org; or send me an email for more information.
Any readers who have a grant request for their own USLSS/USCG facility, site or related research can do so by going to https://uslife-savingservice.org/grant/ to complete a grant application.
New Drone Footage Found On-line for Wood Island, Maine
The internet is an amazing place. In the past few weeks an exceptional video from September 2018 showing the new north sea wall and shed at Wood Island.
Further evidence "It Takes a Village" to save a historical community site, but also how infectious and receptive others are to an effort that all take part.
The USLSSHA Annual Meeting in 2020 will be in Maine and we will plan to make this one of the stops during our tours. Click on the link to enjoy the aerial ride above and around this station. https://www.youtube.com/watch?v=d8-X0losj00
Rochester, New York is the Location for the 2019 Annual Conference
The 2019 Annual Conference and Meeting will be in Rochester, New York. The tentative dates are October 3 – 5, 2019. The conference agenda will cover stations at Oswego, Niagara, and Buffalo. Additional tours and programming are in the planning stages. Watch this site and Wreck and Rescue for more information. Mark your calendar now.
If you have a story to submit for the next Life Lines please contact us through our website. https://uslife-savingservice.org/contact/
Also consider joining the Life Lines staff. We are now three and more are welcome to join us. If you wanted to have a role or contribute to the organization this is your opportunity to do so.