Does anyone know the story behind this photo? I found it on the world wide web.
Send any information to http://uslife-savingservice.org/contact/. I'll send out a thank you prize to the first person to accurately identify this photo.
Publications Now Available as Print-on-Demand
[twocol_one]
[/twocol_one] [twocol_one_last]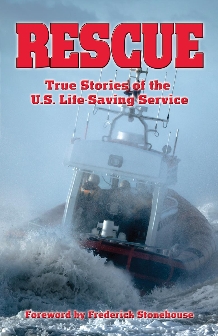 [/twocol_one_last]
The two books that the USLSSHA produced are now available by print-on-demand at lulu.com. Search for either "They Had to Go Out" or "Rescue: The Stories of the U.S. Life-Saving Service" edited by John Galluzzo. If you have not added these two books to your library here is your chance to do so.
Chronology of Coast Guard History

If you were looking for a link to a chronology of Coast Guard History here is that link. https://www.history.uscg.mil/research/chronology/
Wallops Beach Station Again Looking for a New Home
This call will stay in Life Lines each month until we determine that the structures have been saved or time has run out and they have been demolished. If you can help please do so now.
The Wallops Beach Station in Virginia needs someone willing to take and move the structures from the NASA Wallops Flight Facility. Both the station and the tower could be yours. NASA will demolish the structure in 2021 to reduce their mandated allotted square footage, but there is still time. If someone is interested in moving these structures please contact:
Steve Taylor
Realty Specialist
NASA Wallops Flight Facility
Bldg N-161, Rm 135
Work: 757-824-1194
Cell: 503-317-0073
Hull Lifesaving Museum Announces Fall Activities
Walking Tour of Hull Village & Fort Revere
November 28, 2020
10:00 am – 12:00 pm
Donation $15.00
Join Sean Baggett as he leads a walking tour starting at the museum and proceeding through picturesque Hull Village and historic Fort Revere. Space is limited for this popular tour so secure your reservations early.
Tour Details: https://files.constantcontact.com/5a801759001/578601b0-736c-4a67-9e0f-84b679f5f80c.pdf
Icebreaker – "Ice Out 2020"
Youth Rowing Championships
November 1 – 21, 2020
$10 per rower
Youth rowers will compete remotely for the trophies, glory, and the annual Key to the Harbor. Check at Hull Lifesaving Museum for more information.
Gwen Verdon's Former Quogue Home With Atlantic Views For Sale
This oceanfront home and former U.S. Lifesaving Service station previously owned by actress Gwen Verdon is listed for sale for the first time at 84 Dune Rd. in the Village of Quogue.
The house was originally built as a station for the U.S. Life-Saving Service, a predecessor to the U.S. Coast Guard, until it was decommissioned in 1915. It still has the original U.S. Life Saving Station sign, a boat room, original flooring and various memorabilia from its Life Saving station days, according to Dan's Papers.
The property is about two miles from downtown Westhampton, the Westhampton Long Island Rail Road station, and falls in the Quogue School District.
The asking price is $8,950,000, not including the $30,402 in annual property taxes, if one of our readers is interested.
New Addition to Marquette Maritime Museum
"I thought you would get a chuckle out of this baby beach cart and of course baby Lyle gun!
We didn't have room for a full cart so one of our members, (Scott Porter who is also our master gunner, made half scale replicas." –Fred Stonehouse
North Carolina is the Next Virtual 2021 Annual Conference
The Committee has begun planning the 2021 Virtual/Hybrid annual meeting. This year the North Carolina Maritime Museum and the Old Baldy Foundation will be our Virtual/Hybrid hosts.
Virtual activities will include speakers, site visits, interviews, a Virtual History Happy Hour, an online auction and more as we creatively think of it.
Mark your calendars for the 2021 Conference, Southport, North Carolina on September 23-25, 2021. We are in touch with the North Carolina conference planners and are monitoring the COVID-19 status in their State so those who feel safe making the trip will be able to. Watch this site and Wreck and Rescue for more information.
If you have a story to submit for the next Life Lines please contact us through our website. http://uslife-savingservice.org/contact/